With temperatures beginning to plummet and the hours of daylight melting away from both ends of the day right now, the time available for photography is becoming incredibly precious. Now that we're into October the sun won't rise until we're at work and it will have set before we leave for home. The only times we'll see daylight are from the office window, at lunchtime and at the weekends. If you have a 9-5 then this is not really the season for photography. Like me, you have to become a weekend photo warrior.
As of writing I'm still clinging to the notion that there may be a photo opportunity on the way to or from work, or that somehow I'll have enough time in my 30 minute lunch to find a subject worth photographing. Both of these scenarios are becoming quite implausible, and yet I'm still faithfully carrying my camera to work with me. I'm a creature of habit, and this is my habit.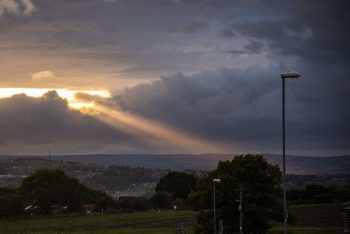 This is the first time in quite a long time that I've been office-based, and working to someone else's 9-5 expectations. I'm far more used to a home-based schedule outside normal working hours, and I have a long and established history of working at the computer when it's dark outside rather than when it's light.
I've previously noted that I thought I'd probably bought the Sigma 150-600mm at the wrong end of the season. It turns out this may not be the case. The lens is providing many opportunities for great photography at the weekends and I'm making frequent visits to the local park where there are a couple of hides for photographers and "birders" to observe the local woodland wildlife. Nevertheless, even with the park being on my doorstep, Google's timeline still said I'd driven a thousand miles over September, just at the weekends. Such is the pent-up need to get out and take photographs after five days cooped up at work, I suppose, as the light's faded during the week!
Below is a small gallery of photos from my weekend-only jaunts through September and into October this year. I will be posting soon about the performance of the Sigma 150-600mm, and why I'm almost exclusively using my 24 megapixel D5300 APS-C camera with it, rather than my 36 megapixel D800 FX format camera.
(Click on an image, then use [left] and [right] arrows to navigate)