Snow Schmow! For a truly magical Winter Wonderland scene, you don't need snow, you need a hoar frost!
Not to say that you don't want snow too, if it should be available! But the magical fairy dust sprinkled on a Winter Wonderland scene is the crystallisation of tiny shards of ice, on the tips of leaves and on the surfaces of branches, twigs, grass and fences.
The way we whinge about the cold here in Yorkshire, you might be forgiven for thinking we'd get a hoar frost every other day in Winter, but in fact hoar frosts are not all that common. They form in fairly specific conditions and it is not enough for the temperature to be very low, humidity also needs to be very high. When the conditions are right, though, the results can be spectacular. We had such a day yesterday, with high humidity and a temperature overnight that plunged to -6°C. That's pretty chilly, even for us! Nature's gift, in recompense, was a beautiful and picturesque hoar frost.

Maisie and I started our day later than usual, so we didn't arrive for our walk until after 9am. The temperature had climbed, by this point, to -3°C. We had no need to fear that the hoar frost would have melted by then, though. Maisie got a good walk, and I got a few photos and a pair of very cold hands. I could swear I never used to feel the cold like I do today. Not even thermal gloves keep my hands warm any more.
The hoar frost remained all day and even overnight, when we were blessed with the addition of a thin layer of snow.  To avoid the inevitable jump in slow-moving traffic that always comes with the slightest hint of snow, we set out earlier this morning. This meant the sun was yet to rise and so the light was less good. And by less good, I mean less present. It was pretty dark. The temperature had graciously climbed to just -1°C for this morning's walk, though, so I for one was not about to complain.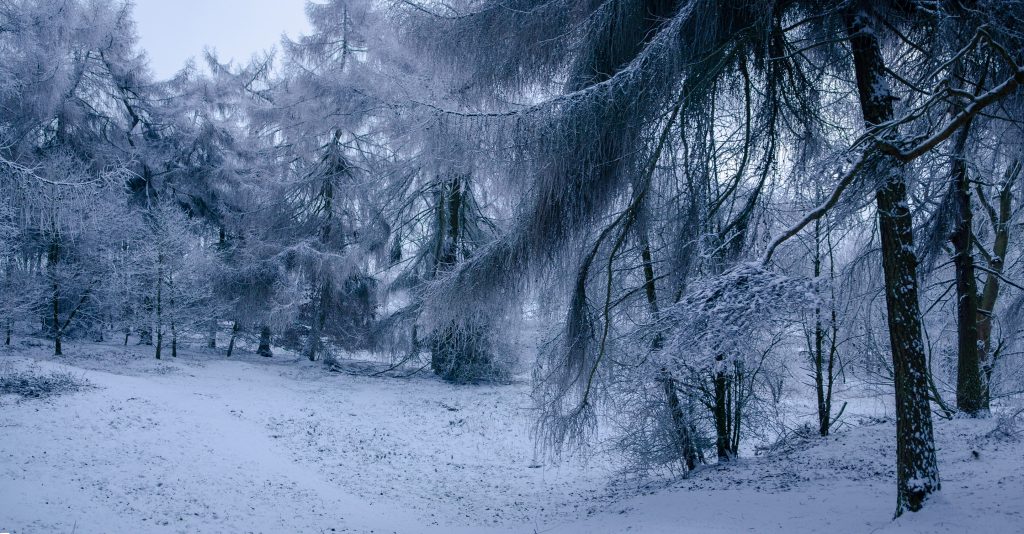 With it being so dark, instead of relying on hand-holding my camera today, I grabbed a monopod. Screwed into the bottom of my camera, though, the monopod meant that I couldn't have my camera strap attached to the tripod base plate that I usually leave attached to the base of the camera. That meant carrying the camera without being able to put my hands in my pockets. At least, not both hands at the same time.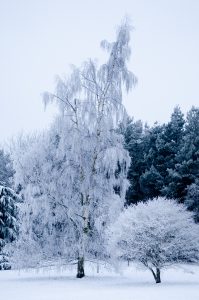 My Nikon camera is very good at recovering detail in under-exposed photos, and I often shoot extremely under-exposed photos in order to keep my shutter speed up, to avoid motion blur ruining my shot completely. It's not ideal, but it's a workaround.
In a darker environment, the obvious solution is to increase ISO in order to capture a properly exposed photo in-camera. However, higher ISOs mean more noise, and with my limited testing it appears that there is fractionally less noise in the image if I recover detail during the post-processing of an under-exposed image than if I increase the ISO to capture a well-exposed image.
Still, this morning I was forced to push things, with a shutter speed of 1/30th. My favourite lens (the Nikkor 17-55mm f/2.8) doesn't have built-in stabilisation, so the chances of introducing blur into the shot is significantly increased. The monopod somewhat mitigates that risk. It's not a guaranteed solution, but using the monopod certainly increases my chances of getting home with usable photos. And on days like today, with frostbite as well.
In extensive testing I've found that anything below 6°C is too cold for my poor exposed hands, these days, and if it's at all windy things are no better when I'm wearing gloves, so this morning I was close to the point of breaking into a jog in my rush to get the photos of trees that I had in mind at Golden Acre Park. Rest assured, dear reader, that at no point did I actually break into a jog. I just came close. These days I don't think it's likely that I'll ever break into a jog again; I ache too much. I plod instead, and I'm comfortable with plodding.