I thought I could get by, sharing my 14mm Samyang between my D3000 and D800 cameras but it turned out that I couldn't. I absolutely love the 14mm on both of these cameras. The lens is spectacularly sharp and contrasty and, even though it's manual focus, its ultra-wide format means that it's almost impossible to miss focus. I've owned two Samyang lenses – this 14mm and also an 8mm f/3.5 fisheye in the past – and they have both punched way above their weight.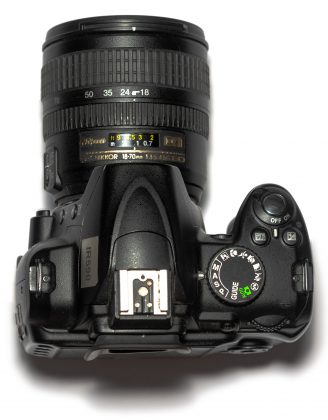 Where things fell apart was in the need to swap lenses in the field – often a dusty field filled with drifting pollen – between two cameras. That meant that the internals of both cameras ended up being exposed to the elements far longer than I'm remotely comfortable with. I've had to clean the sensors on both cameras already, because of this issue. The only way to solve the problem was to not swap two lenses on two bodies every time I wanted to use one specific lens on one specific camera. The only way to do that was to buy another lens to use for general purpose shooting, for my D3000. So that's what I did.
The photography marketplace website mpb.com was offering several general purpose lenses, from 18-55mm to 18-200mm, all of which would have been good options for my D3000. In the end I opted for a well-used, second hand 18-70mm Nikon kit lens, reduced in price to just £32.
Name
Nikon AF-S DX Zoom-Nikkor 18-70mm f/3.5-4.5G IF-ED
Focal length
18 – 70 mm
Maximum aperture
• Wide: F3.5
• Tele: F4.5
Lens construction
• 15 elements in 13 groups
• 3 x ED glass lens elements, 1 x aspherical lens element
Picture angle
76° – 22°50′
Max. reproduction ratio
1/6.2 (.16)
Dimensions
(dia x len) 73 x 75.5 mm (2.9 x 3.0 in)
Weight
390 g (14.8 oz)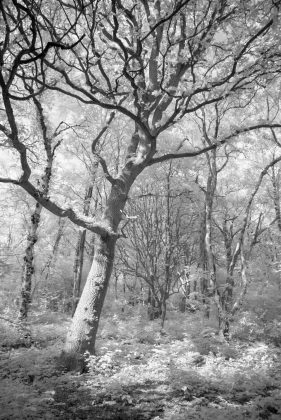 The 18-70mm alongside my existing 70-300mm provides full coverage from wide to telephoto. It's a reasonably lightweight lens, though not as light as the 18-55, but in one lens it covers the focal range that I most use in infrared photography, which is primarily landscape. And, at £32, it's an extremely affordable path to a much-needed solution.
Not being an ultra-wide angle lens, the 18-70mm consumer kit lens is much more likely to miss focus completely. And it does miss focus completely, quite a lot.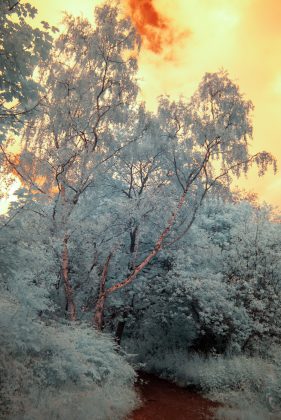 In fact when I first received the 18-70mm, I thought the lens's focusing was faulty. It appeared to front-focus really badly and my first photos were completely blurred. I'm still experimenting to determine where exactly the problem lies, and to some extent it may be related to the nature of infrared light, but for now I am shooting solely at f/8 and getting consistently acceptable results.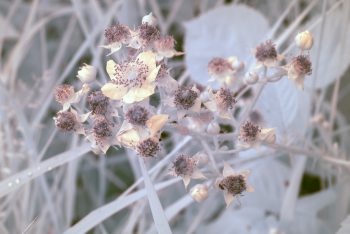 However, the 18-70mm is not as contrasty as the Samyang, and this is potentially the most significant issue with this lens. Infrared photography is by nature less contrasty to begin with, and requires some work in a photo editor to achieve the final result, so it may be that it simply requires a little more extreme editing to achieve comparable results to the Samyang. It may also be the case that it is not possible to achieve comparable results to the Samyang with the 18-70mm at all. This remains to be seen, so watch this space.